Construction Equipment Manufacturers Offer New Websites, Services for Contractors
Several construction equipment manufacturers have announced new services and websites to help contractors be more
Several construction equipment manufacturers have announced new services and websites to help contractors be more productive. 
Terex Utilities Launches Utility Pros Content 
Terex Utilities has launched a new online resource for utility professionals, to connect them with expert information on using and maintaining aerial devices and digger derricks.
"Utility Pros delivers valuable, relevant and consistent content that covers parts and service, field operations, safety, applications, industry regulations, and more," said Joe Caywood, director of marketing and product management with Terex. "With a new post every week, Utility Pros will also occasionally share a Terex Tech Tip that provides service advice or a Safety Share that covers ways to enhance safe work practices."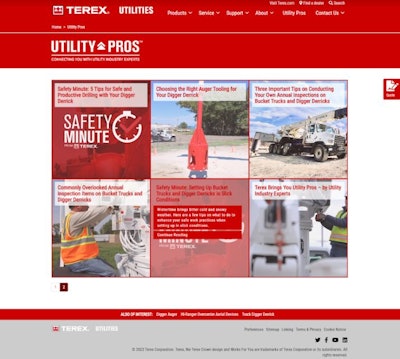 Example articles include:
"We continue to be there for our customers and the industry through education, training, and product support to give them the tools to improve their business," said Caywood. "Utility Pros is the perfect means of providing customers with additional information or reference material that's easy to read."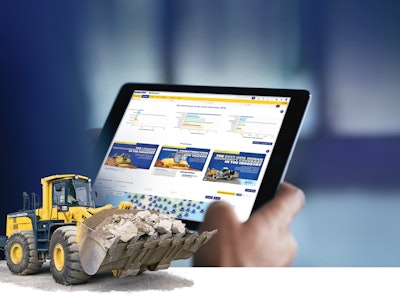 My Komatsu Offers Fleet Visual Analyses of Telematics Data 
What if you could monitor the health of your entire mixed-equipment fleet from one dashboard, receive maintenance alerts on your phone, and order parts without searching through manuals?
With Komatsu's comprehensive digital hub, My Komatsu, contractors can get easy-to-interpret visual analyses of data collected from numerous sources displayed on easy-to-read dashboards. My Komatsu can pull data from Komtrax, Komtrax Plus, ISO API 15143-3 (AEMP 2.0) data from other OEMs, or other direct data sources and provide powerful analytics to help you manage your fleet and drive your business without managing multiple IDs and passwords.
"Komatsu understands that our customers are busy and expect technology to be easy to use," said Matthew Beinlich, director of digital support solutions for Komatsu. "Starting today, our customers can get the most important telematics data, such as location, hours, fuel consumption, idle ratio and production, from My Komatsu for many of the other brands of equipment they may operate.  Enter the ISO 15143-3 API credentials for those brands into My Komatsu once, and you'll no longer need to log into each OEM's system separately each day."
The system has been designed to make it easy to collect, visualize and monitor telematics data from both Komatsu and non-Komatsu machines.
Quickly view and manage data on one dashboard
Receive maintenance alerts and order parts
Troubleshoot to help minimize downtime
Monitor for theft and unauthorized use
Benchmark machine performance
Track fuel consumption and manage fuel efficiency
Access data anytime 
With the ISO-15143-3 (AEMP 2.0) telematic API (application programming interface), computer code allows fleet managers to integrate new telematics digital information into existing fleet management systems. With this functionality, fleet managers can view telematics data for Komatsu and non-Komatsu machines to easily visualize the complete fleet, pull operation reports and set alerts.
Here's how it works:
Data is generated by equipment (Komatsu or non-Komatsu)
Komatsu data flows to Komtrax data storage. ISO 15143-3 (AEMP 2.0) facilitates the extraction and raw data to your choice of database
My Komatsu connects telematic data from all equipment or accesses it through monitoring and analysis services to create powerful analytics dashboard views
ISO integration and analytics are currently standard features with a My Komatsu registration.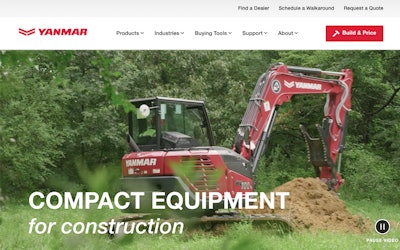 Yanmar Launches Website Dedicated to Compact Equipment 
Yanmar Compact Equipment North America has launched a website dedicated to its lines of compact equipment. The site comes as one of many new investments Yanmar is making in the North American market and corresponds to the company's initiative to adopt a customer-focused approach in every facet of its business.
"Our main goal with the website was to provide a rich customer experience," said Regan Meyer, marketing manager for Yanmar Compact Equipment North America. "This aligns closely with Yanmar's strategy to transform how we create value for and build relationships with customers."
The new website makes it fast and easy for users to find information on the Yanmar brand and the compact equipment products offered in North America. It requires fewer clicks to reach product and industry pages, and the intuitive layout makes it simple to locate desired information, in addition to improving the site's visual appeal.
Practical features add more usability to the site. A new Build & Price tool allows users to customize a machine with the configurations they are most interested in. They can then submit the configuration and be contacted by a dealer with a quote. Site visitors can also visit the News page to stay current on the latest updates from Yanmar Compact Equipment and read helpful articles. Users can sign up for Yanmar's newsletter to receive news and updates directly in their inboxes. See the new website at www.YanmarCE.com.
JLG Supports National Safety Month on #DirectAccess
JLG Industries, Inc., a manufacturer of mobile elevating work platforms (MEWPs) and telehandlers, launched a new blog with jobsite safety information at #DirectAccess. Blog content addresses four key themes: 1) Musculoskeletal Disorders, 2) Workplace Impairment, 3) Injury Prevention and 4) Slips, Trips and Falls. 
"It serves as a great reminder for companies to prioritize safety. JLG urges its customers to create a strong culture of safety and offers a wide range of resource materials to help companies institutionalize safe practices," said Jennifer Stiansen, director of marketing for JLG.
#DirectAccess is categorized by topic, offering content on a wide variety of subjects, including safety, training, product development, technology, parts, service and product support. New content is published weekly on #DirectAccess, supplementing the library of content that has been created since the site's launch in early 2018. Information is available on-demand from any device.
Upcoming topics will highlight insights on how safety consciousness drives jobsite innovation, important details about the current aerial industry standards and information about specific machine alerts that operators need to know before working at height.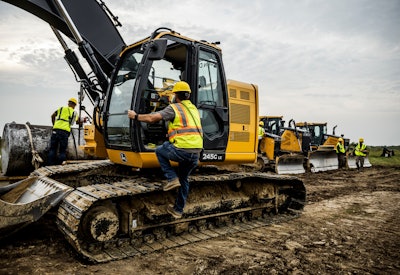 John Deere Introduces John Deere Protect Parts & Fluids Plans 
John Deere has introduced the expansion of the John Deere Protect program with the addition of John Deere Protect Parts & Fluids Plans. 
John Deere released the John Deere Protect Service Plan to better support customers through improved aftermarket and support capabilities. John Deere is now releasing the John Deere Protect Parts & Fluids Plan, which includes the John Deere Protect benefits, but with the preventative maintenance labor and inspection performed by the customer's own technicians.
Both the John Deere Protect Service Plan and the John Deere Protect Parts & Fluids Plan help customers manage long-term ownership costs, and provide flexibility for customers to maintain their machines.
The John Deere Protect Parts & Fluids Plan is available for select John Deere construction equipment in the United States and Canada.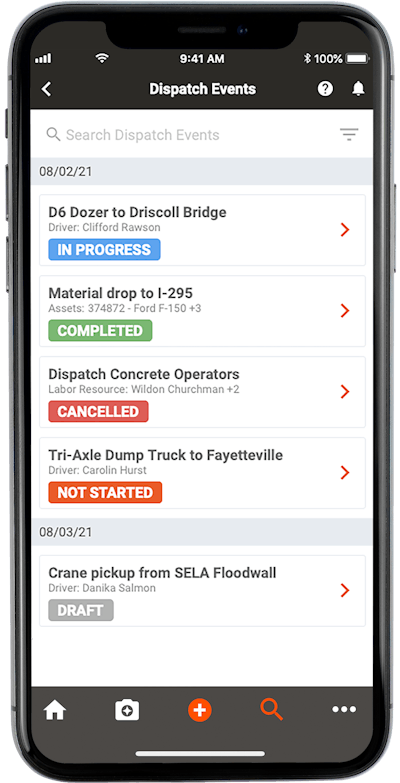 Tenna Introduces its Construction Resource Management Product Suite
TENNA, a construction technology platform for equipment fleet operations, has announced the release of their construction Resource Management software.
Tenna introduced Resource Management as a new product offering within their total construction equipment management platform. This industry-specific product is for equipment and labor resource requesting, planning and dispatching in construction. 
This product includes features that are dedicated to help crews make the best decisions on resource moves, and ultimately gives clear and visible direction to drivers, laborers and other crews to execute on.
"We worked closely with several of our current customers to get their input and learn about their critical needs in a product like this," said Jose Cueva, co-founder and vice president of product at Tenna. "That's a key aspect that makes both Tenna and this product unique. As a dedicated partner, we considered our customers' needs first-hand during our design and development to ensure we built features and functionality that provide a total solution to real construction dispatching and resource sharing use cases. We conducted over 125 hours of interviews with current customers to make this product a reality that would work for them as part of our commitment to their success and satisfaction."
Tenna's Resource Management product simplifies a key operational business need – supplying jobsites with mission-ready equipment and operators – making it easier to manage equipment through Tenna as a single provider. It serves the need to request, approve, plan, schedule and dispatch assets and labor resources while leveraging the real-time location, telematics alerts, maintenance needs, and other operational asset insights from Tenna. This allows them to make the best decisions around equipment planning in addition to efficiently approving and fulfilling project resource needs.
Resource Management allows contractors to efficiently manage the sharing of equipment and laborer resources across project sites, departments and other locations like the maintenance shop, and allows the project team, dispatching personnel and labor resources to communicate efficiently with each other around equipment moves without picking up the phone.
"This product is tailored to construction, as are the rest of our offerings," said Austin Conti, CEO and co-founder of Tenna. "From requesting the equipment and related crews for a project operation, to dispatching tandems delivering materials, to coordinating the lowboy and driver moving equipment from site to site, you can do it all with Resource Management in Tenna. Resource Management is dynamically integrated into our product suite. It allows for accomplishing both complex people and equipment scheduling."
While some providers offer dispatching functionality as a separate, standalone product, Tenna's resource management functionality is built within the greater Tenna platform, seamlessly integrated, and allows users to leverage the rest of Tenna's equipment management insights within their scheduling and dispatching workflows within a single system.
For Tenna, the release of their construction Resource Management software and construction equipment dispatching functionality further strengthens their already robust platform providing a total solution for contractors and their routine, critical operational needs. Tenna commits to staying ahead of contractor demands to remain the best construction-focused, integrated equipment management solution for the industry.
Volvo Group Pledges to "Drive to Zero" Program
CALSTART's Global Commercial Vehicle Drive to Zero program and campaign (Drive to Zero) has welcomed the Volvo Group as its newest pledge partner.
By signing the Drive to Zero pledge, the Volvo Group joins Drive to Zero's current network of 130+ manufacturers, fleets, governments, infrastructure providers and other market leaders committed to accelerating zero-emission commercial vehicles. Pledge partners agree to work strategically and collaboratively to support and grow mechanisms to speed the early market for zero-emission commercial trucks and buses. Drive to Zero's goal is to drive market viability for zero-emission commercial vehicles across key segments in urban communities by 2025 and achieve full market penetration by 2040.
"As leaders in transport and infrastructure solutions driving sustainable transformation in our industry, the Volvo Group is proud to pledge our support for Drive to Zero and its ambition to achieve net-zero carbon emissions by 2040," said Volvo Group North America chairman and Mack Trucks president Martin Weissburg. "The pledge to accelerate zero-emission vehicles aligns with our own commitment to environmental sustainability, including targeting global, net-zero greenhouse gas emissions by 2040, as well as 35% of our global vehicle sales to be fully electric by 2030."
"As one of the world's top commercial vehicle and equipment manufacturers, the importance of the Volvo Group joining our Drive to Zero network cannot be overstated. This will align with Volvo's ambition towards 100% fossil-fuel free vehicles by 2040, help connect the company to a wider network of committed partners, and help accelerate infrastructure development," said Cristiano Façanha, CALSTART's global director and Drive to Zero lead. "We are honored to welcome the Volvo Group to the Drive to Zero program and campaign."  
Drive to Zero and the Volvo Group recently participated in CALSTART's Virtual Policy Summit – Driving California Forward, emphasizing the importance of leveraging California's work to build an effective policy ecosystem of ambitious targets, strong regulations and targeted incentives to accelerate zero-emission commercial vehicles. California's strategic blueprint is summarized in a recent Drive to Zero publication.