60 Outdoor Patio Ideas That Can Revamp Your Space
Photographee.eu/Shutterstock If you are lucky enough to have a patio, you have convenient access to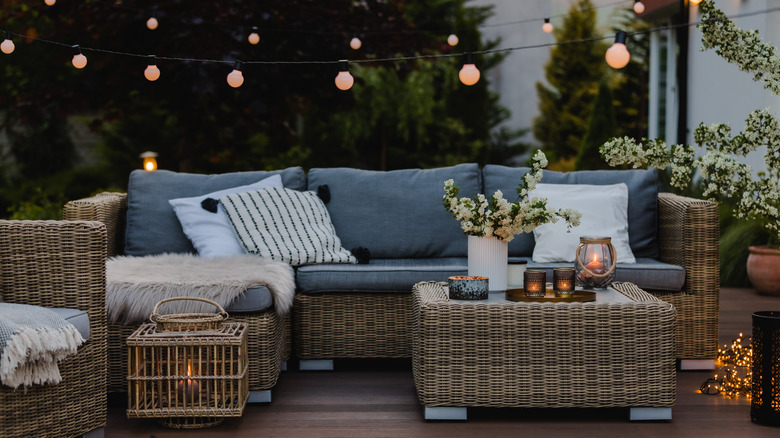 Photographee.eu/Shutterstock
If you are lucky enough to have a patio, you have convenient access to a haven where you can recharge and improve your wellbeing in a multitude of ways. According to Healthline, spending time outdoors can improve your sleep quality, relieve depression, sharpen your mind, boost your immune system, and more.
Unfortunately, the patio doesn't always get as much thought as interior spaces while decorating a home. However, if you take care to make your outdoor space as comfortable and inviting as possible, it will motivate you to maximize your time spent enjoying it and reaping the many benefits that it can provide. With a bit of inspiration and creativity, even the drabbest little concrete balcony can transform into a reading nook, a socializing space, a dining room, or simply a relaxing spot to rest for a while. To get your creativity flowing, we have compiled 60 inspiring patio ideas you can apply to your own space.
1. Private patio with vertical string lights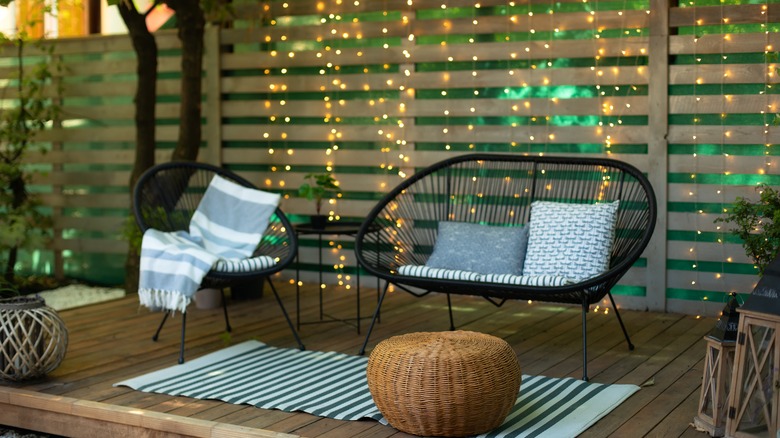 stock_studio/Shutterstock
Rather than hanging a strand of lights around the perimeter of your patio space, try dressing up the border of your patio with a wall of vertically strung lights to create a cozy backdrop.
2. Sleek tabletop fireplace terrace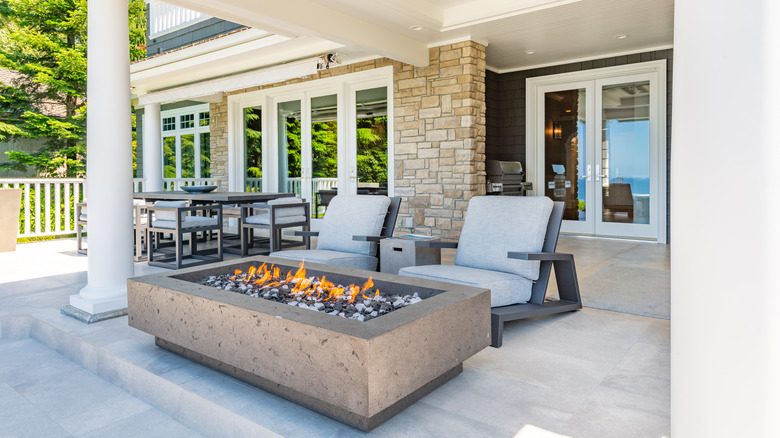 Sheila Say/Shutterstock
For a more modern aesthetic, consider investing in an electric tabletop fireplace for instant access to a cozy ambiance without having to keep a firewood stockpile. 
3. Cozy conversation alcove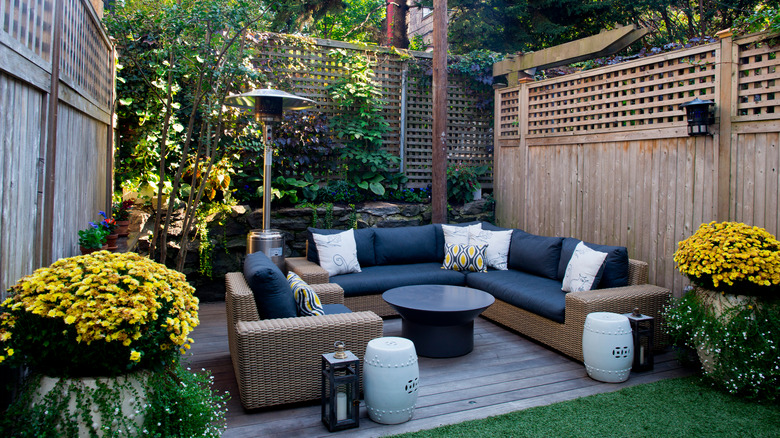 Marie Sonmez Photography/Shutterstock
Create a welcoming space that invites conversation with patio furniture arranged in a U-shape. Adding an outdoor heater allows you to keep the socializing space in use throughout the year.
4. Pallet furniture patio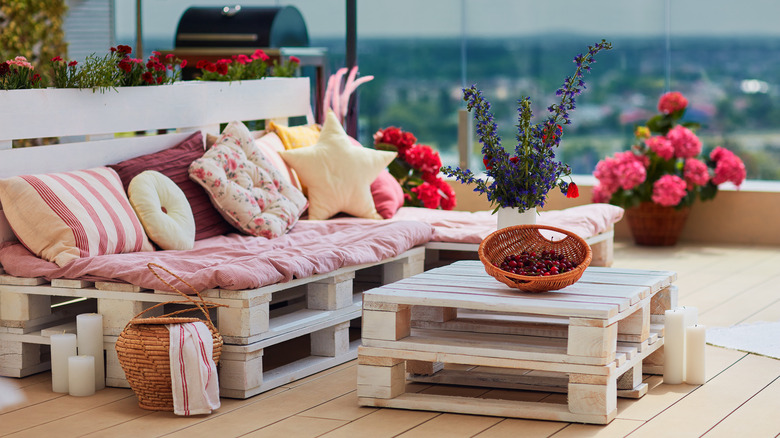 Olesia Bilkei/Shutterstock
On a budget? Rather than purchasing expensive furniture for your patio, you could try your hand at putting together some DIY furniture out of wooden pallets, which can often be found for cheap or even free. Make it cozy with cushions, blankets, and lots of throw pillows.
5. Dressed up deck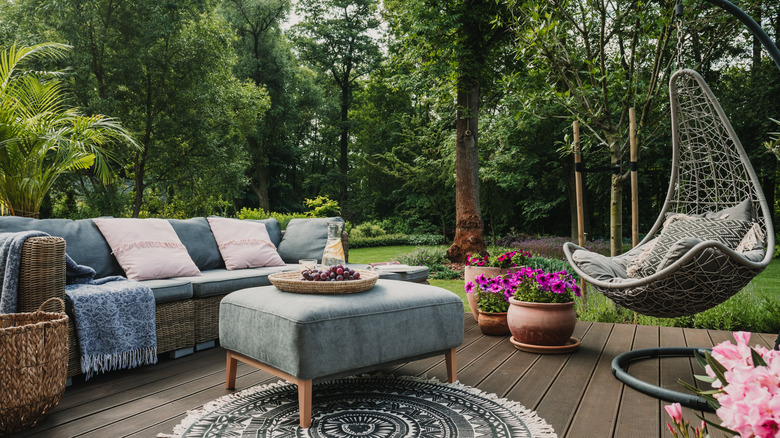 Photographee.eu/Shutterstock
Keeping a basket filled with pillows and blankets near the door to your patio space makes it easy to add extra elements of coziness every time you go outside. The addition of an outdoor rug ties it all together.
6. Eye-catching outdoor oasis
Joanne Dale/Shutterstock
Rather than opting for the typical beiges and grays that patio furniture often comes in, inject your personality into your patio space by choosing a springy green or another cheerful, bold hue. Add some colorful throw pillows if you're feeling extra daring.
7. Serene natural balcony
Dariusz Jarzabek/Shutterstock
A lifeless concrete balcony becomes more in tune with nature by keeping biophilic design in mind with tall potted grass and nature-inspired textures such as a furry throw blanket.
8. Retro outdoor nook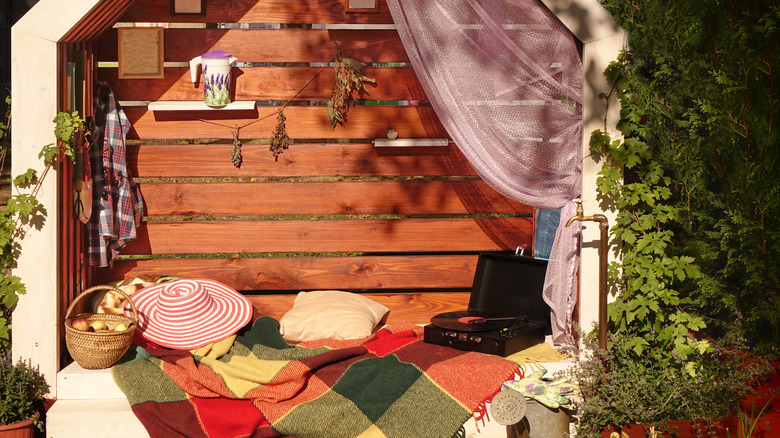 AVN Photo Lab/Shutterstock
Incorporate a little sanctuary into your patio space with the addition of a covered seating structure made cozy with pillows, blankets, and curtains and decorated with some joy-sparking items.
9. Plant-filled balcony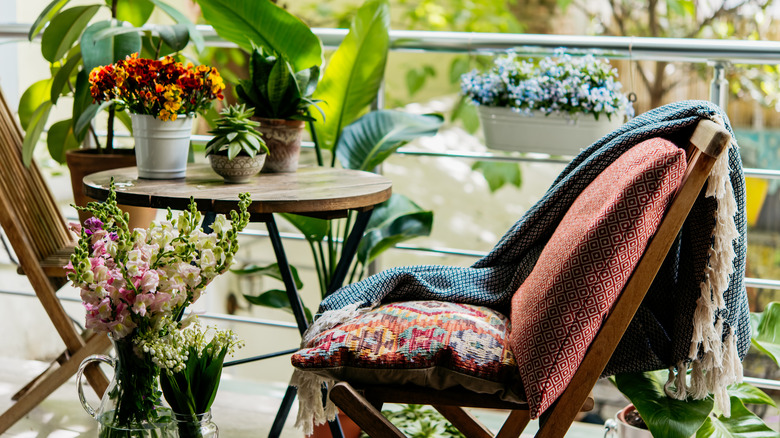 Yulia Grigoryeva/Shutterstock
If you don't have enough space or sunlight for plants in your home, seize the opportunity to go all-out for your outdoor space. This balcony incorporates a variety of potted plants and fresh flowers, creating a beautiful and peaceful oasis.
10. Natural wood patio furniture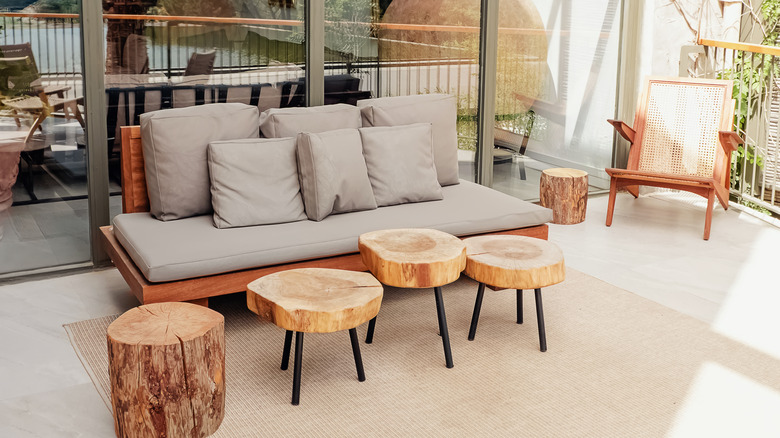 Chiociolla/Shutterstock
Add some flair to your outdoor space with tree stumps and wood-slice tables for a chic woodsy vibe.
11. Café table on the terrace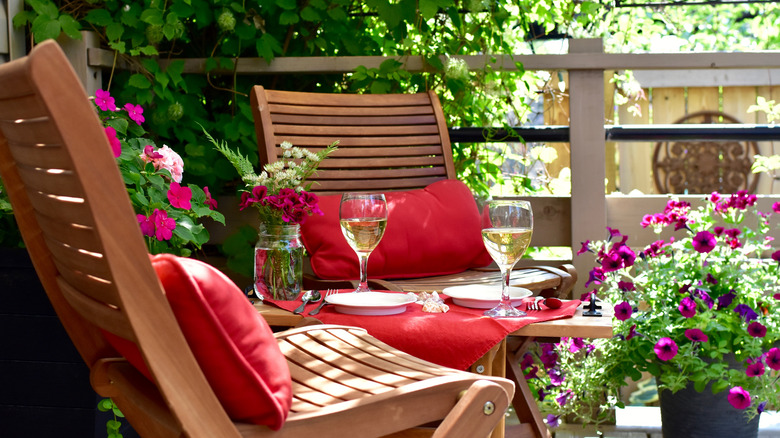 Klem Mitch/Shutterstock
If your patio is tight on space, you can still fit in an inviting lounge area by being strategic with your furniture placement and opting for a skinny rectangle-shaped table to maximize the small area.
12. Bamboo balcony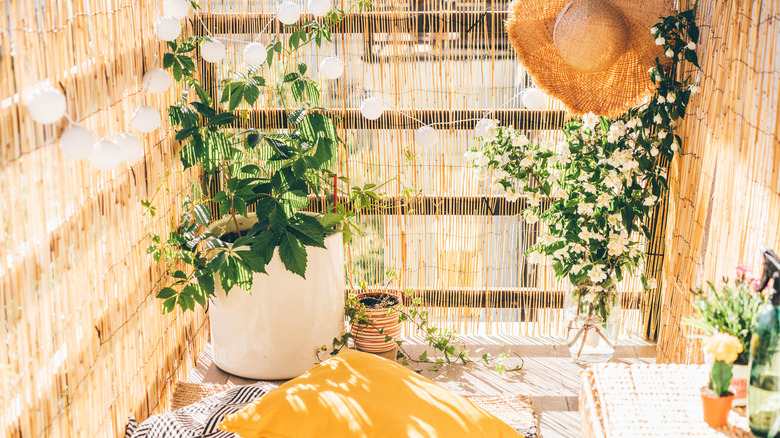 Mariia Korneeva/Shutterstock
Add privacy and style to your balcony or patio space by lining your fence or railing with a bamboo screen.
13. Shaded balcony lounge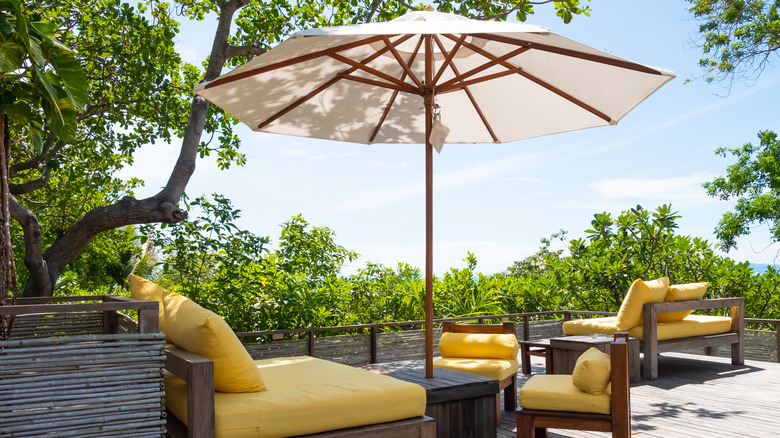 Teerasan Phutthigorn/Shutterstock
If your patio gets an excess of direct sunlight, don't skimp on the umbrella. Choosing a large one will cast enough shade to keep everyone comfortable. This elegant cream and dark wood umbrella enhances the overall look of the setup to boot.
14. Elegant cream patio
This dreamy covered patio boasts an elegant and cohesive design with creamy hues that match the house's exterior. 
15. Romantic lit patio
Going over the top with lighting accents creates an undeniably romantic and peaceful environment. Don't choose between string lights, lanterns, and candles. Instead, opt for them all for the ultimate cozy factor.
16. Cozy pergola patio
A pergola lined with white curtains and string lights is another way to create a peaceful and beautiful oasis. 
17. Patio with climbing plants
Incorporating plants with climbing vines onto your patio adds height and invites a sense of immersion into nature.
18. Natural rattan furniture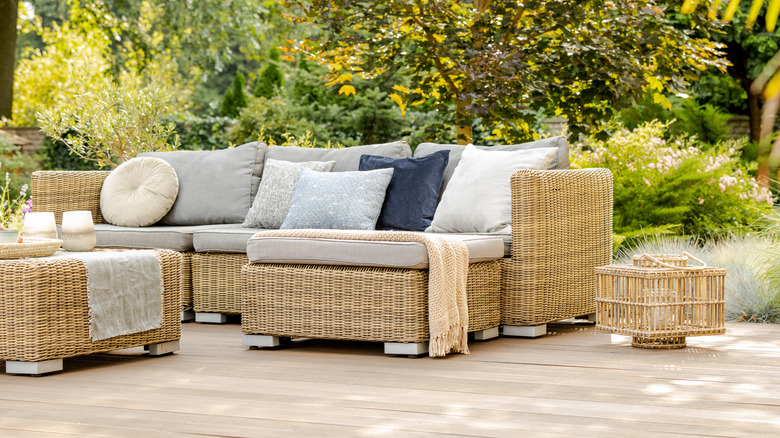 Photographee.eu/Shutterstock
Choosing patio furniture in a natural material such as this wicker rattan set creates a cozy place to rest in harmony with nature.
19. Flower bed balcony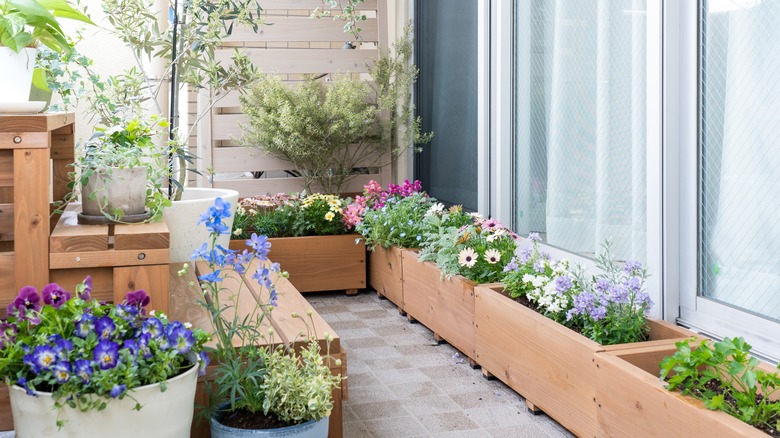 polkadot_photo/Shutterstock
If you don't have space elsewhere for the garden of your dreams, you just might be able to fit it on your patio with the use of some flower boxes lining the perimeter.
20. Boho brown patio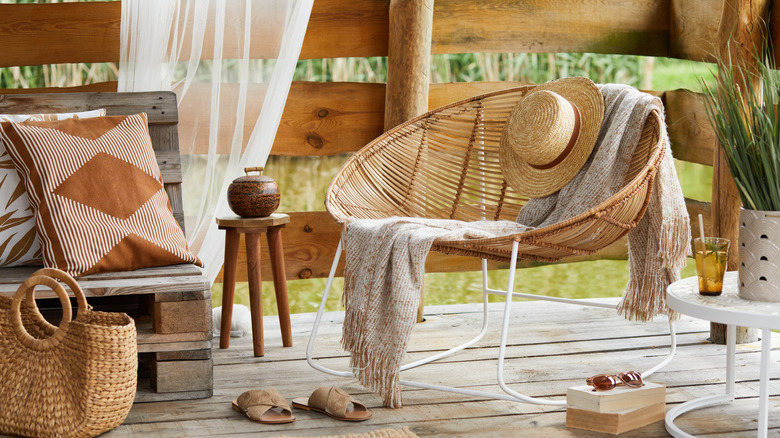 Followtheflow/Shutterstock
For a breezy bohemian vibe, opt for warm browns and tans and natural materials while decorating your patio. A sheer gauzy curtain completes the effect.
21. Pops of pink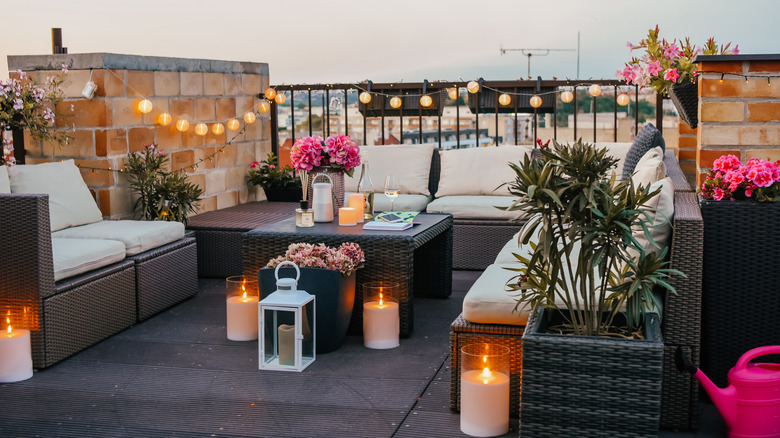 fashioninmysoul/Shutterstock
An easy way to feel at home in your outdoor space is by incorporating bold pops of your favorite color. In this case, hot pink flowers and a matching hot pink watering can add personality and charm to this otherwise neutral roof deck.
22. Serene seating among the flowers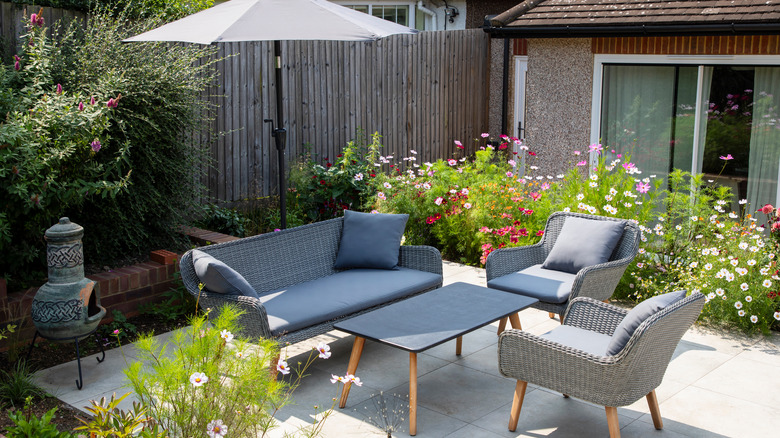 Magdanatka/Shutterstock
If your setup allows, nestle your patio seating in between flower beds to create a charming garden paradise.
23. A patio with a view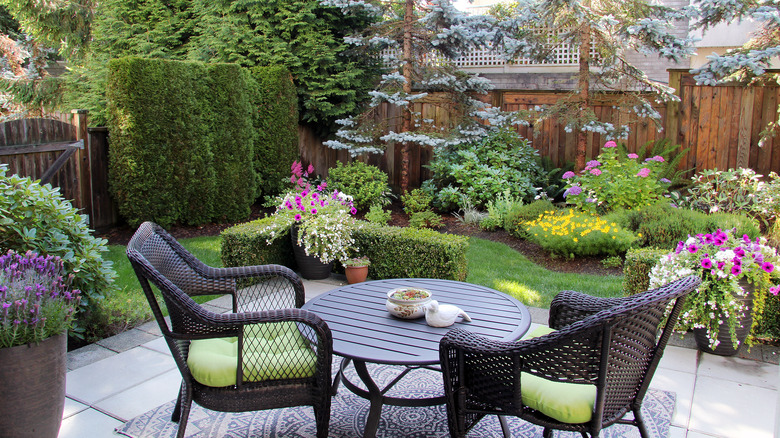 Hannamariah/Shutterstock
If you have a garden near your patio, be sure to arrange your seating so that you can soak in the view while lounging.
24. Concrete and brick patio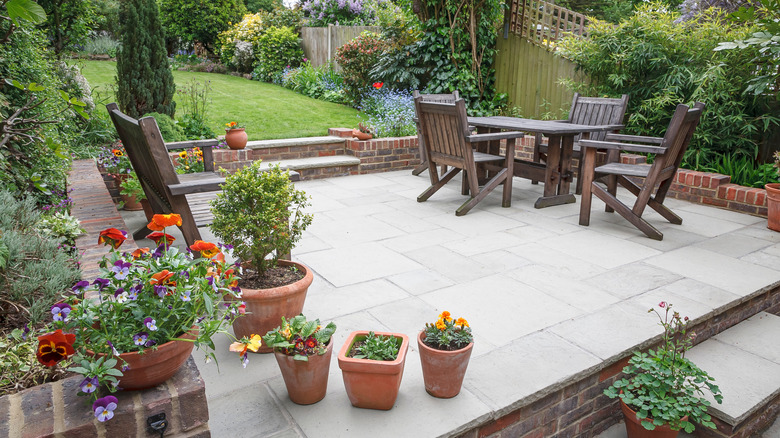 Paul Maguire/Shutterstock
This charming brick and concrete patio is situated on a sloping lawn. If you don't have space for a patio next to your house, perhaps elsewhere in your yard would be the perfect place.
25. Grassy balcony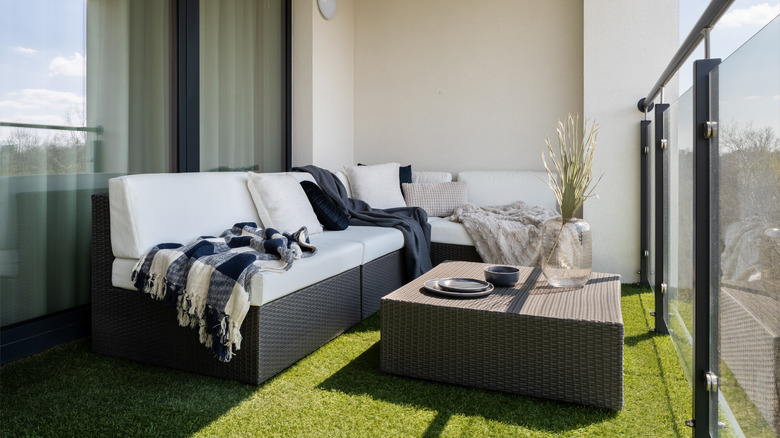 Dariusz Jarzabek/Shutterstock
If your patio space is a balcony, you can make it feel more grounded — literally — by lining its floor with faux grass.
26. Patterned tile balcony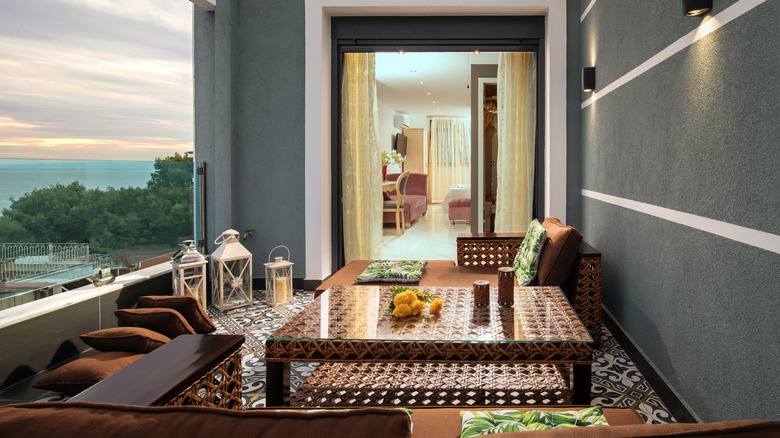 George Tsamakdas/Shutterstock
If you're a fan of bold patterns, consider choosing patterned tile floors for your patio space for an eye-catching effect.
27. Faux plant wall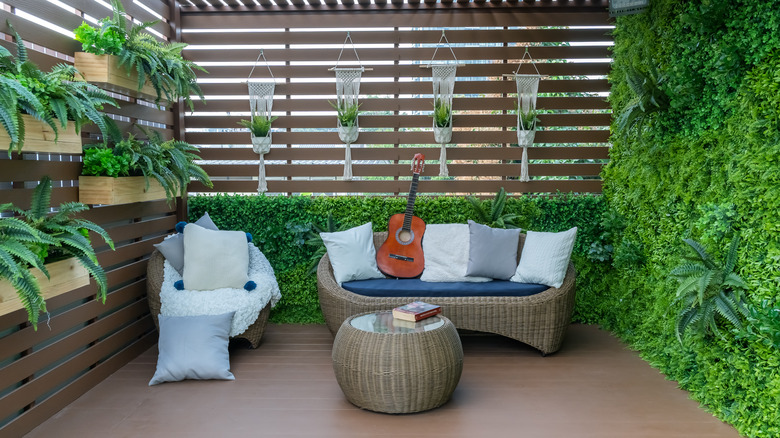 Tapui/Shutterstock
A faux plant wall (or a real one if you have a green thumb) is a beautiful way to add extra privacy and flair to your patio.
28. Cozy layered rug patio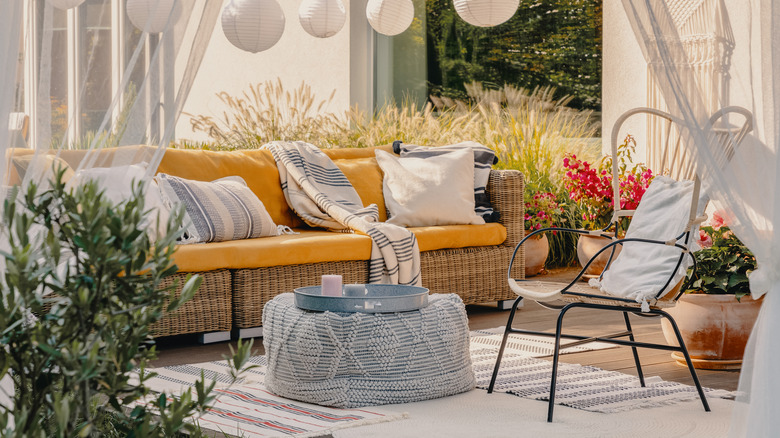 Photographee.eu/Shutterstock
In lieu of an area rug, layer smaller outdoor rugs for a cozy patchwork effect. Finish it off with an ottoman that can double as a table and additional seating.
29. Stylish minimalist balcony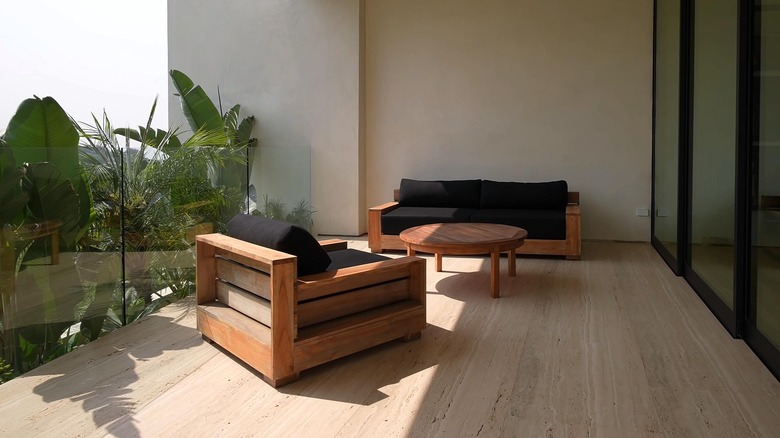 Gabo_Arts/Shutterstock
Sometimes, a gorgeous set of patio furniture speaks for itself. Opting for a minimal setup makes this chic low-profile seating shine, creating a calm and clutter-free space.
30. Mixed seating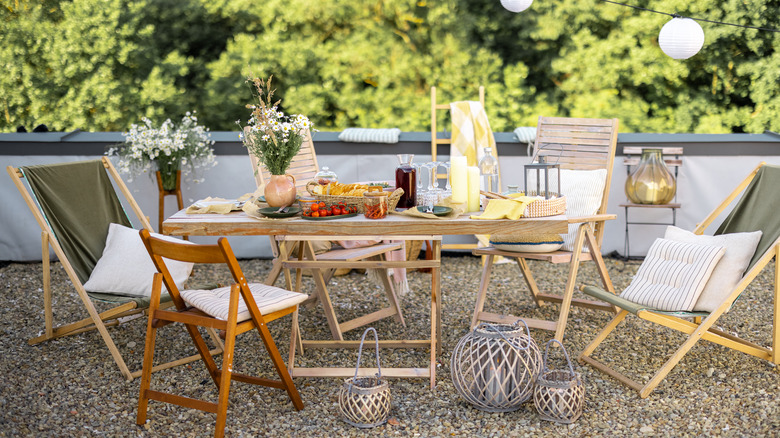 RossHelen/Shutterstock
Placing mismatched seating around your dining table may sound chaotic, but instead, the effect is eclectic and homey.
31. Unique curvy patio furniture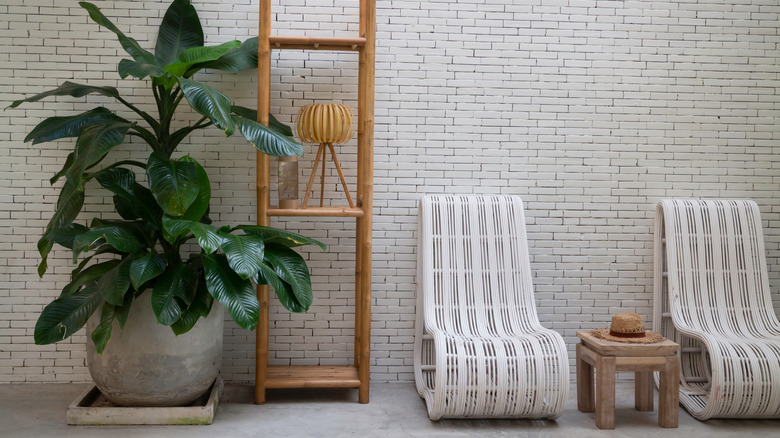 nalinratphi/Shutterstock
Choosing your patio furniture presents an opportunity to take risks that you may not be comfortable taking inside your home. This is your chance to make unique and bold furniture choices, like these modern curvy chairs.
32. Seasonally decorated patio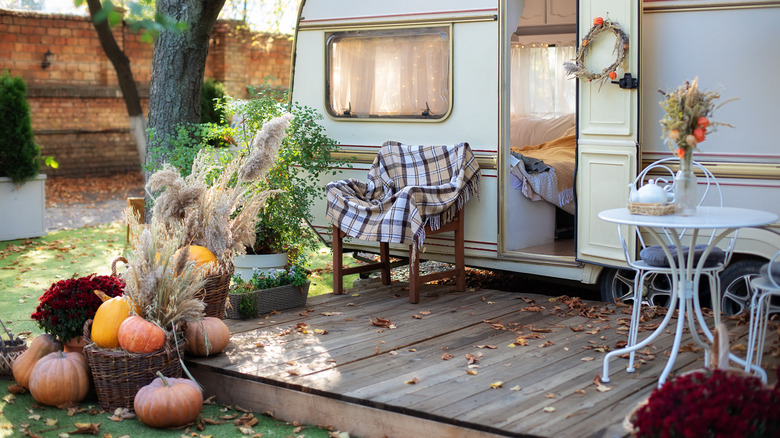 stock_studio/Shutterstock
If you enjoy decorating the interior of your home for the seasons, you may love spreading that seasonal spirit onto your patio. This patio is decorated for fall, and the effect is cozy and inviting.
33. Weathered wood patio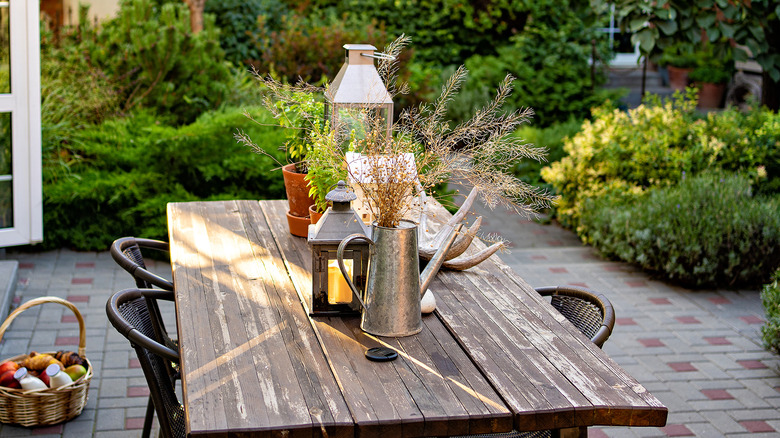 Andrey Sayfutdinov/Shutterstock
If you enjoy the weathered wood look, your patio table is the perfect place to let it shine. Pair with a lantern-style candle holder and dried grass arrangements to maximize the aged boho effect.
34. Sweet streetlight patio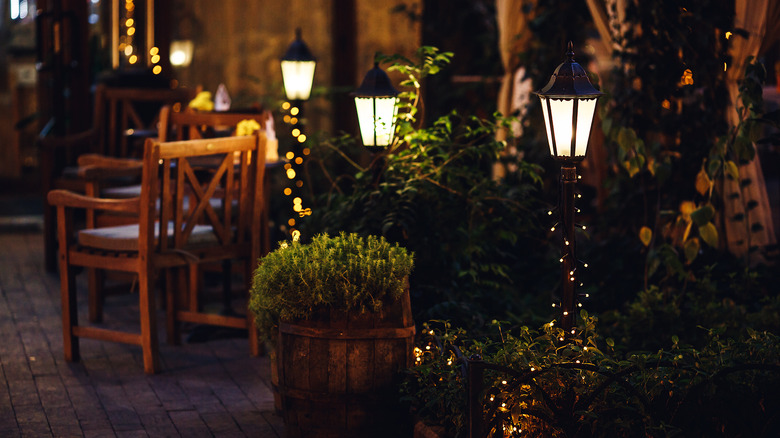 Marina Varnava/Shutterstock
These streetlight-inspired yard lights create the cozy feel of an intimate small town, a la "Gilmore Girls."
35. Dramatic hanging plants
This patio pergola draped with dramatic curtains and topped with vines and hanging plants is the ultimate chic lounge space.
36. Moroccan-inspired balcony
This Moroccan-inspired balcony pairs bold textiles with antique-style wooden tables and a vintage area rug. Minimal terracotta pots complete the look.
37. Cute café patio
Opting for a classic set of white metal café tables and chairs paired with climbing roses and other florals has a sweet, romantic effect.
38. Vintage wood patio
This patio styled with vintage wood furniture creates interest by placing greenery at varying heights with the aid of tables and plant stands.
39. Energizing workspace patio
A simple workspace set-up on your patio will breathe new life into your day as you complete your tasks surrounded by nature.
40. Old school patio
Wooden rocking chairs and a seasonal faux wreath lend this front porch patio a classic homey vibe.
41. Serene hammock balcony
The addition of a hammock provides the opportunity for maximum relaxation on your patio. Choosing one in a cheerful color makes it even more welcoming.
42. Luxe outdoor oasis
This covered patio goes luxe with a fireplace and full dining table for entertaining guests. A built-in grill makes barbecuing a breeze.
43. Sleek patio bar
If you love to entertain, consider converting part of your patio into an outdoor bar to wow your guests.
44. Boardwalk patio
This patio invites you to enter the relaxing space by walking along boardwalk-like decking surrounded by lush greenery.
45. Outdoor theater patio
For fans of movie nights, maybe the best use of your patio space is converting it into an outdoor theater by enlisting the help of a projector and some comfy seating.
46. Chic shaded patio
A slatted ceiling provides shade for this patio, which features a luxuriously oversized white L-shaped couch and a chic wood table. 
47. Patio seating with a view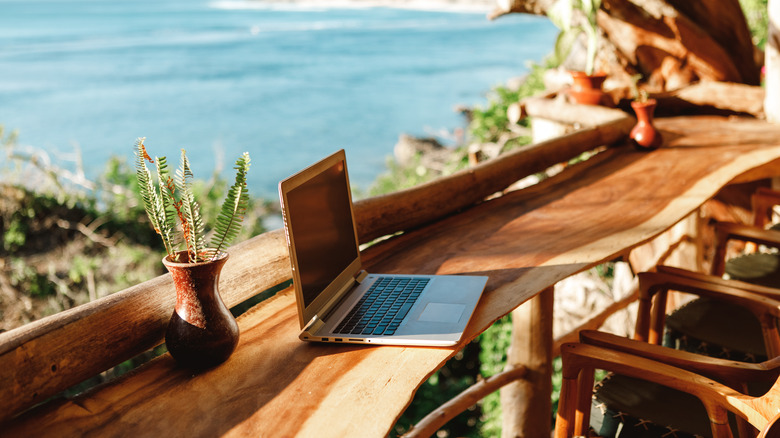 PhotoSunnyDays/Shutterstock
If you are blessed with a patio that overlooks a nice view, consider taking inspiration from this beautiful wooden counter and seating that overlooks the water. 
48. Full outdoor kitchen patio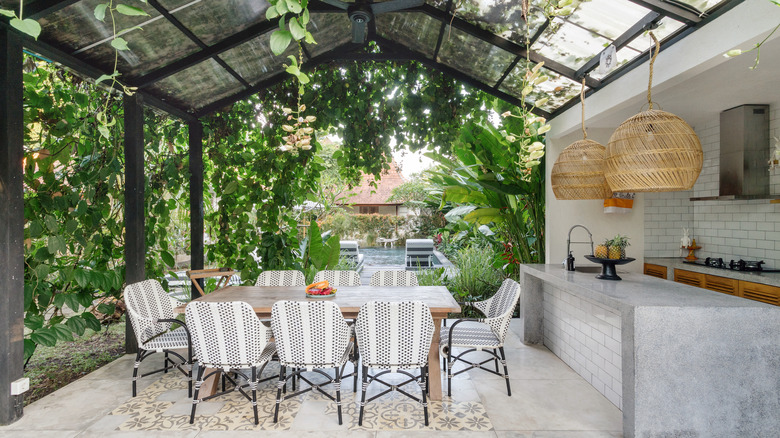 brizmaker/Shutterstock
If you love entertaining and spending as much time outdoors as possible, your dream patio might look something like this one, which features a full outdoor kitchen and dining set under a lovely greenhouse-like glass roof.
49. Rooftop gazebo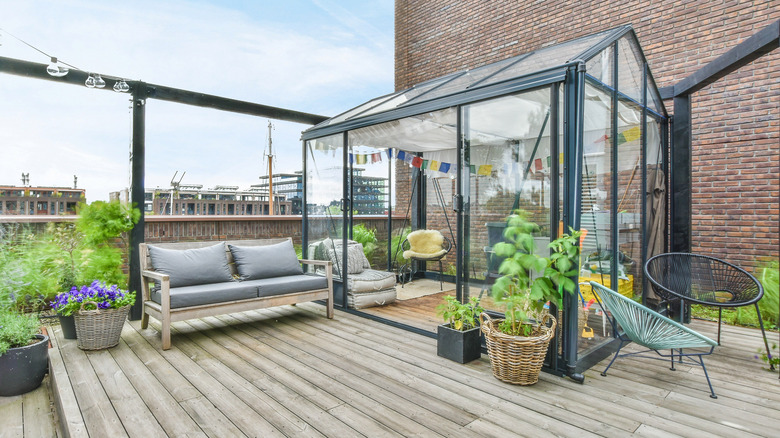 Procreators/Shutterstock
If you live in an area with unpredictable weather, you could take inspiration from the owners of this inviting roof deck and use a small freestanding greenhouse as a cozy gazebo.
50. Boho lounge patio
If you prefer sprawling on the floor rather than sitting in a chair, consider taking inspiration from this boho-chic patio, which creates a cozy lounge space by employing a low table, rug, pillows, and a built-in backrest.
51. Modern patio with succulents
Don't have a green thumb but still want some greenery on your patio? Consider hanging up some faux plants or easy-to-care-for succulents. 
52. Eclectic tropical patio
Take inspiration from this fun and eclectic patio by hanging up chic mismatched patterned tiles and bead curtains.
53. DIY a comfy hanging couch swing
If you have the DIY skills, you could take inspiration from this hanging couch swing. Build a wooden frame supported with strong rope and add some cushions and pillows to make it cozy.
54. Stone fireplace patio
Rather than a fire pit, try a stone fireplace on your patio for an elevated look. A convenient covered spot to stack firewood completes this setup. 
55. Mix and matched patio furniture
This patio mixes and matches seating for a fun effect. Try purchasing furniture or cushions in complementary colors or patterns and then swapping the pillows for a cohesive look.
56. Color-coordinated terrace
Take color coordination to the next level by choosing a couple of shades for your patio and going all-out. Include the flowers and pots that you choose. Bonus points for matching colors on the exterior of your house, like this terrace which took inspiration from the sage green shutters.
57. Beachy pebble patio
For a low-maintenance flooring solution, this patio uses small pebbles. The result is a relaxed, beachy look.
58. Vegetable garden balcony
If you have a balcony or porch but no room for an actual garden, try your hand at a container garden! This patio produces beautiful tomatoes in a tiny amount of space.
59. Luxe gold patio
Go for the gold while decorating your patio with elegant tan and gold-hued pillows and accents. Dried pampas grass completes the sleek look.
60. Natural stone patio
If you're all about the natural look, consider paving your patio with irregularly-shaped stones for a beautiful rustic effect.